Ideal for mid-range to large full-service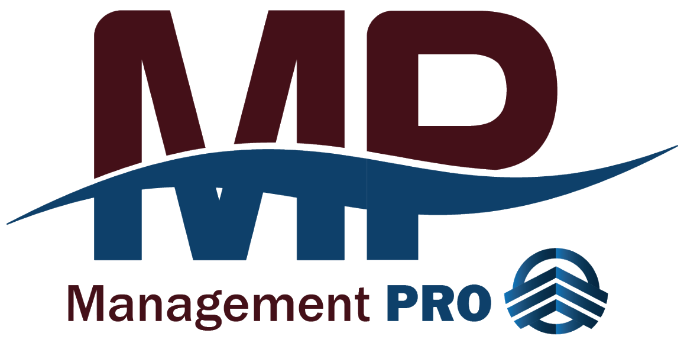 Designed for mid-size and larger boatyards M-PRO offers the next level in boatyard and dealer management software for businesses needing full accounting general ledger functions and progress billing for extended repairs. Today, all marine businesses must run more efficiently than ever before. Let NSS help you improve your bottom line. Take command of your software and get total control of business operation with M-PRO v.6.
Boatyard management software
Full QuickBooks integration
Barcode support drilled down to each task
Progress scheduling and billing
Supports multiple site locations
Advanced inventory control
Powerful, easy-to-use and affordable
Key Benefits and Features
Easy Access, Easy Viewing, Easy Navigation
This dealership and boat yard service management software program is organized for easy navigation from the main screen. No "multiple stacking" of screens to back out of to navigate making M-PRO a breeze for the service writer and service adviser. All customer information is right there: billing and address info, boat/engine info, any estimates and work orders, plus historical transaction details are all part of the work order manager. Open or pending jobs are found in one view to make searching through in process work orders easy. An advanced inventory control system has been built into M-PRO to support multiple inventory locations. Taking physical inventory is improved with the import and export report functions. M-PRO is ideal for boatyards with multiple inventory sites.
QuickBooks Integration for a Complete Accounting Solution
M-PRO financial manager includes a seamless software integration to Intuit QuickBooks as a back-end financial management tool for better management. Multi-levels of security ensure the financial information is accurate before you post. Accounting staff view customer and vendor transactions electronically populated right into the accounting package. Powerful financial tools and reporting are available at all times.
Business Efficiency is Increased
M-PRO was designed by marine service experts for marine service personnel with the goal of increasing management efficiency. Take total control of your business operation. Examples include rapid and accurate time sheet postings, reconciled vendor statements, parts are tracked throughout the purchase transaction, job schedules are set at task level, job lists are date driven. With M-PRO you are in command.
M-PRO Takes the Work Out of Work Orders and Reports
While the work order includes customer contact information, vessel details and slip locations, your technician also sees special instructions that are not printed on the customer's invoice. Management reports for the work order manager can be generated down to the work order level in real time so you can monitor the profitability as the repair progresses. Each task can also be accessed with a barcode scanner. Templates provide consistency and efficiency. Inventory control of this boatyard software makes taking physical inventory of your parts ideal for your financial manager.
Data is Migrated Easily with Our Help
Our dedicated team of software experts can assist you with data conversion and complete migration from your current software system as needed. You are not alone with Nautical Software Solution's professional service you have direct access to a team of dedicated and knowledgeable professionals. We have been serving the marine industry for more than 25 years.
Demo
We would be happy to provide a private, online live demonstration of the Management Professional software product and answer any questions you may have. During this pre-sale discussion, you'll come to understand that we are not just selling software; we are invested in building long-term relationships with our clients so that their businesses become more efficient and prosperous. At that point, if you would like to work with M-PRO at your pace, simply have NSS install a fully working demo of M-PRO for only $29 as a setup fee. If you decide you want M-PRO, the $29 demo fee is credited toward the installation. Make sure you put this marine industry software product into your marketing planner and see how M-PRO can make the marketing differential for your business.
Support
We provide effective on-site or remote installation and training to quickly get you up and running. Once your company work process has been defined, we customize the training by department. This is done so no valuable employee time is lost in program areas that are not accessed by that department. NSS training is not limited to software needs: we offer operational and executive consulting too. Affordable software maintenance and support plans are available.
Progress and Scheduled Billing
Work Orders /Estimates
Ships Store
Inventory
Progress and Scheduled Billing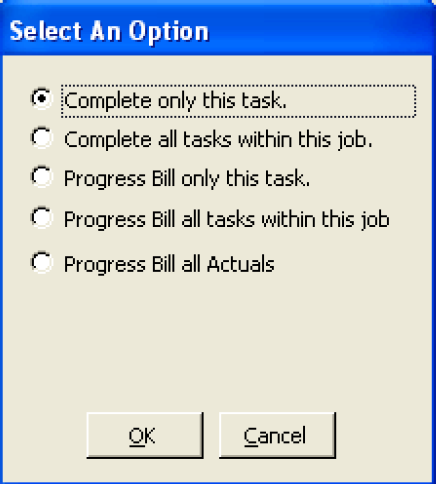 Progress Billing
Progress Billing is performed on a task. After each progress billing is completed, an invoice is created, and the tasks are marked as completed.  Additional tasks on the project can be progressed billed accordingly until the project is completed. You can progress bill by:
Complete only this task

Compete all tasks within this job

Progress Bill only this task

Progress Bill all tasks with the job

Progress Bill all Actuals



Billing Parts
Once the task has been completed, the procedure will check for parts associated with this task and then it will allow you to bill parts. Parts do not need to be billed until they have been used.
Tasks Progress Billed
Once a task has been Progress Billed, it will be placed on the Proforma. On the task screen, the word Progress will show under the completed column.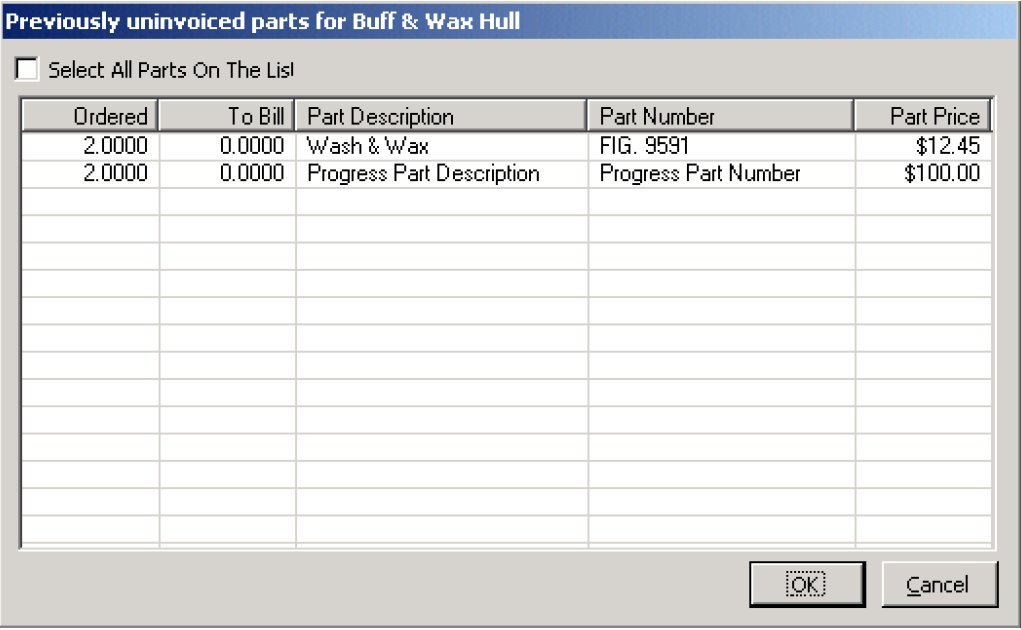 Invoicing
The invoicing procedure is the same as on a regular invoice. Preview Proforma and create the invoice and refresh to accounting. No will appear in the completed column on the Work Order task screen and the amount will show under invoiced column.
Scheduled Billing
The user will have the ability to enter a one-time or recurring charge for a customer. Once scheduled billed items are entered into the system they will 'sit' in a holding pattern, and nothing will be billed to any customer without the user running a Batch.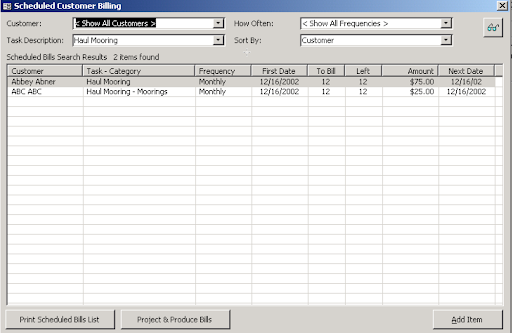 Work Orders /Estimates
Ships Store
Inventory
Nautical Software Solution is a marine company that understands the boating industry. We know the importance of business efficiency. Whether you are a small service-only repair facility or a small-to mid-sized full-service marine dealership or marina, NSS has the business software program for you.
"We run a very small parts dept and the Special Order function in purchasing ensures we post all parts to the customers invoice"
"A great feature is how the program can lookup a customer balance so I do not have to go into Quickbooks and search"
"I don't have a lot of time to learn a software product. I sat down at the terminal and figured most of it out with no instructions"