Powerful, easy-to-use and affordable for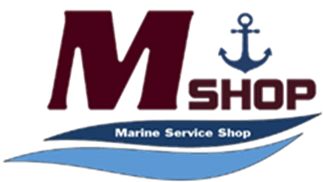 Easy to install – up and running in minutes
Easy to use and expand to meet your needs
Generate work orders from estimates
Create finished invoices for billing
Easily create over-the-counter sales
POS module available for Ships Store and heavy retailers
Complete inventory control management system
Use M-SHOP exclusive Rapid-Fire© inventory entry system
Integrates with manufacturer and distributor price books
Search for alternate part numbers and quantities on-hand on the fly
Easily create parts kit templates for recurring jobs and projects
Generate customer history reports Email on-the-fly capability
Barcode ready
Ability to track technician hours and job efficiency
Powerful, easy-to-use and affordable
Key Benefits and Features
Up and Running in Minutes
The installation procedure is extremely easy for single users or multi-user implementations. We also make it easy for you to configure it to your company's specifications. Typically, it takes just minutes to install and to begin using M-SHOP. There's no better way to find out just how easy it is than by trying out our full working M-SHOP v.10 demo for only $29. The $29 demo setup fee is credited to you if you choose to install M-SHOP.
Easy to Learn, Easy to Expand
M-SHOP will be mastered even with limited computer knowledge. At the center of the intuitive workflow is the work order that easily links with most of the available functions. Employees will quickly master the program, thus reducing training costs and minimizing downtime. As your business grows, so does M-SHOP because adding a license is as simple as a call to our sales team. No need to overspend for software. Let M-SHOP take command of your service needs with the most reasonably priced marine industry repair software program.
Tracking Maximizes Your Profits
Keep up to date with changing prices and have an uncomplicated inventory tracking system with support for all manufacturers and after-market distributors and parts suppliers. Tracking functions don't stop there. Track accounts receivable for all service work, vessel and customer tracking, and technicians' service hours. An optional point-of-sale (POS) module for large retailers is also available.
Create your own Flat Rate Table
M-SHOP includes built-in tables for Problem Codes and Labor Codes. The Labor Code Table is constructed so you can easily create flat rates for the type of work your shop regularly conducts. In no time you will have this completed as adding rates on-the-fly is simple. Adjust current descriptions to meet your shop's needs or create brand new work groups.
Stand Out with Professional Forms
It's a snap to create work estimate templates for quick and easy quoting of common jobs. The inventory system allows you to create Parts Kits for repeatable jobs that will automatically pull from inventory every time a task is completed. Customized printed professional looking work orders that include your company logo, and reports will set your business apart from the competition. M-SHOP maintains consistency for your business and services making it the marketing difference over the competition. Moreover, remember, the user interface is easy to learn!
Add-on Modules
Nautical Software Solution has a multitude of modules that can be added to M-SHOP. With text messaging that keeps you in touch with your customer real-time, you can send pictures and videos of your work to gain approval for additional work that needs to be performed. You no longer have to wait for your customer to visit the shop to approve additional work. Simply send them a video or picture of the work and get instant approval. This is especially beneficial if you discover problems that could cause a safety issue.
Support
We provide optional on-site or remote installation and training. We can assist you with data conversion from your current software system, if required. Affordable annual software maintenance and support plans include unlimited number of price books of your choice. Our support doesn't start or end with installation: NSS offers day-to-day operations and executive level consulting.
General Features
Work Orders /Estimates
Point of Sale
Inventory
General Features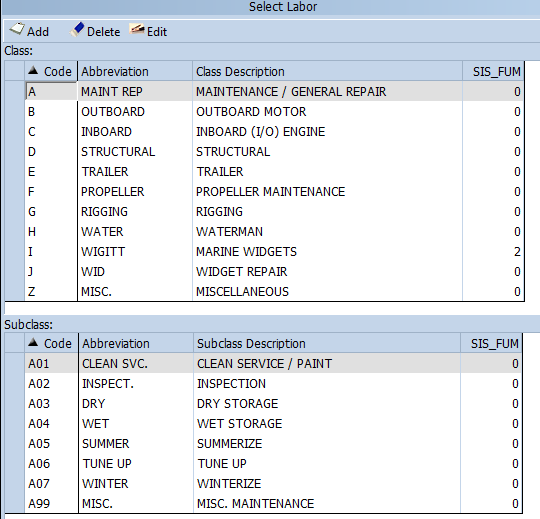 M-SHOP Software was designed for the marine repair business, with an emphasis on work orders, estimates, inventory control, and accounts receivable. Because M-SHOP is a modular system, additional options are available to upgrade your system. These features include Point of Sale, Price File Update Interface and Inventory Price Update Utility. With M-SHOP you save money because you buy only the modules you need. Strong Inventory management tools and complete interface with popular price books from leading marine parts manufacturers, after market and distributors. Inventory support for multiple price levels, supersede information, multi-vendor and direct import of items and prices from the price books. Work Estimates and Work Orders interface with customizable labor and problem tables. Customize your own tables. Create your own flat-rate tables. Simple user interface for quick learning and easy training. Insert Work Order and Estimate parts directly from price books or from Inventory. Keep track of special orders, inventory orders. Have all the information available when needed.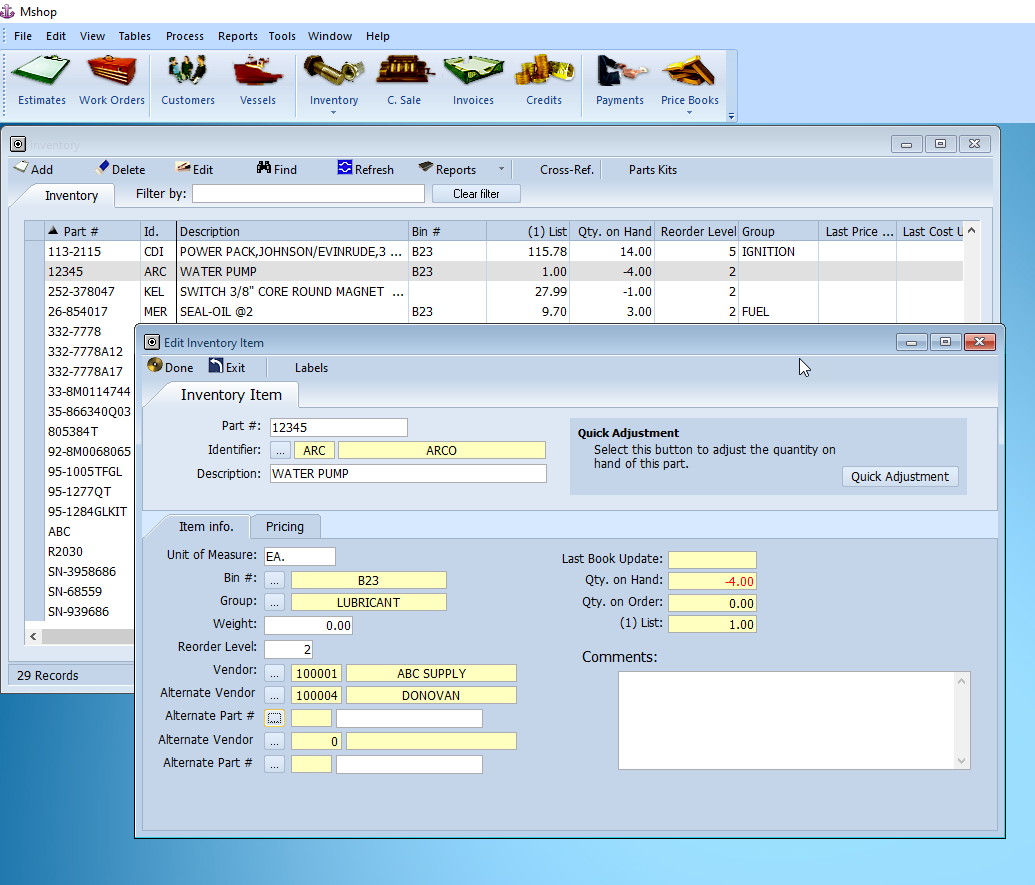 Work Orders /Estimates
Point of Sale
Inventory
Nautical Software Solution is a marine company that understands the boating industry. We know the importance of business efficiency. Whether you are a small service-only repair facility or a small-to mid-sized full-service marine dealership or marina, NSS has the business software program for you.
"We run a very small parts dept and the Special Order function in purchasing ensures we post all parts to the customers invoice"
"A great feature is how the program can lookup a customer balance so I do not have to go into Quickbooks and search"
"I don't have a lot of time to learn a software product. I sat down at the terminal and figured most of it out with no instructions"